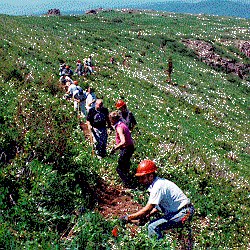 Join us on Saturday June 3rd for a day of volunteering. Help us maintain our area trails. We will be providing sandwiches and soft drinks for lunch.
Please let us know if you will be staying for lunch.
We are joining Back Country Horsemen of Washington, Mount St. Helens Chapter at Kalama Horse Camp.
Saturday, June 3-Sunday 4, 2023. You can stay for either or both days.
Campsites reserved Friday-Sunday and assigned at check-in.
FOCUS this year…Trails impacted by fire
or sign up directly at https://form.jotform.com/231215606168149
If you're not feeling well on the day of the work party please stay home and take care of yourself. We are volunteers and there are no work quotas.